By: Dani
I am going out of town to a wedding this weekend, and I started thinking about cute wedding themes. Which then led me to think about cute, geeky wedding themes. Which then led me to search Etsy for cute, geeky wedding items. Which then led me to me the MadebyLlama page where I squealed in delight at all of the wonderful Harry Potter wedding ideas.
Not gonna lie, if I could, my wedding would absolutely be HP to the max. However, you apparently have to factor in the groom when making big decisions like that since you're supposed to share the day with them. And mine is so far removed from the HP world that I am not sure how we even ended up together, to be honest. But I digress. Let's get back to planning my fantasy wedding.
The Etsy shop, Made By Llama, has some of the cutest Harry Potter items that would absolutely make any wedding magical. My favorite are these adorable Save the Dates in the format of a Hogwarts acceptance letter. You can make any HP fans dream come true by sending one of these in the mail. Bonus points if you can get an owl to deliver it. They are also pretty affordable at only $14.60 for a customized digital file that you can print anywhere you like. Or you can order them printed for additional cost.
Another really cute item are the magical wand favors. They are sold in multiple sizes of bundle packages as well as individually which ensures you get just the amount you need. Who wouldn't want to take home a wand? And if you actually do have someone that wouldn't want one, then I am failing to understand why this person was even invited in the first place.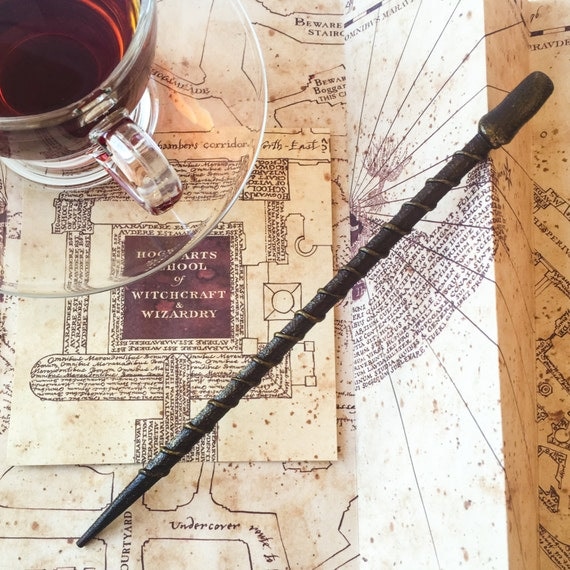 They also have replicas of the candles from the Great Hall for you to hang up via the invisible thread. Seriously. I'm dying. I need these in my life whether I get the wedding or not. Even better is that they are handmade by a Harry Potter fanatic in London.
This shop has a ton of stuff and I could go on and on, but please just go check it out for yourself. Find all of these items along with things like Daily Prophet inspired bridal favors and holiday themed items.
---
What do you think of these items? Would you do a Harry Potter themed wedding? Which theme would you pick for your fantasy wedding?