By T. Mack
It's no secret that we here at Sister Geeks enjoy the CW's Supernatural and love, love, LOVE the hunky chunk of man-meat that is Jensen Ackles (check out all the reasons why here and here). And while we don't swoon quite as hard for the more serious Moose as we do for the fun-loving Squirrel, it doesn't mean we don't love him. Because we do. As a matter of fact, I wish I could have been part of the fan-love that was thrown at Padalecki this past weekend at SDCC. Fans of the actor and the show made a gesture of support following the actor's coming clean months ago about his battle with depression.
Padalecki opened up in an interview with Variety back in March about his struggles with depression. Padalecki told the magazine, "These characters that we play on Supernatural, Sam and Dean, are always dealing with something greater than themselves, and I've sort of learned from the two of them that they get through it with each other, and with help and with support. And I, in the past, have had my own struggles of not [being] so happy with where I am in life, which is strange and I think it goes to show. … Maybe a lot of people don't know this, but Season 3, we were shooting an episode, and I went back to my trailer to get changed and just kind of broke down… I mean, I was 25 years old. I had my own TV show. I had dogs that I loved and tons of friends and I was getting adoration from fans and I was happy with my work, but I couldn't figure out what it was; it doesn't always make sense is my point. It's not just people who can't find a job, or can't fit in in society that struggle with depression sometimes."
The actor started a t-shirt campaign called Always Keep Fighting through Represent.com to help bring awareness to the cause and raise money for To Write Love on Her Arms, an organization that offers support and resources to those struggling with depression, addiction, self-injury and suicide. While the shirt campaign is now over, Padalecki's journey and his fight to bring awareness are not.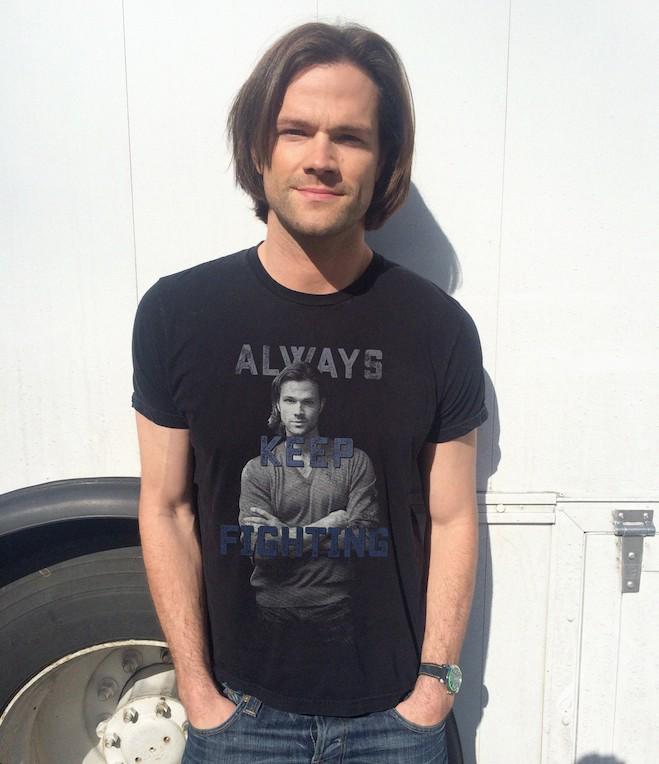 Back in May, the actor cancelled several appearances at conventions in Australia. He was honest when he reached out to fans after the cancellations. On Twitter, he shared, "Dear #JIBCON and #AHBL6. I am in desperate and urgent need of my family. I am so sorry to tell you this but I must head home." He also bravely asked for help by saying, "I need all of the love I can get right now. Please please give me a few seconds of your time and write me. #AlwaysKeepFighting"
This past weekend, in a show of support for the actor and his campaign, fans surprised Padalecki with a candlelight tribute during the Supernatural panel at SDCC. Padalecki posted a photo of his view of the tribute from the stage, then later took to Facebook with a heartfelt response:
We at Sister Geeks support both Jared and his campaign. Depression is a serious illness and we hope that geeks everywhere will be encouraged by Padalecki's honesty and vulnerability. If you or someone you know is struggling with depression, you are not alone. There is help available. Please reach out and always keep fighting.
I want somebody to wake up and brush their teeth and think to themselves like, "Today's not going to be easy. Today's going to be a fight, but I'm going to fight…

Not like, "I hope this doesn't beat me," but "I'm going to continue to beat this today and every time it gets tough." And if you're struggling with addiction and whatever your addiction is, drugs, or booze, or food — walking past a pizza with your name on it and you just know where that leads, just treat it as a fight. Instead of saying "I hope I don't give in," I want people to say to themselves, "I'm going to win this fight."

Even if there are a thousand small fights, even if every other minute you're thinking about suicide, or depression, or addiction, or if you have mental illness, I want people to hit it head on and take action. And to be proud that they're winning their fight, period.

~Jared Padalecki, Variety
#AlwaysKeepFighting